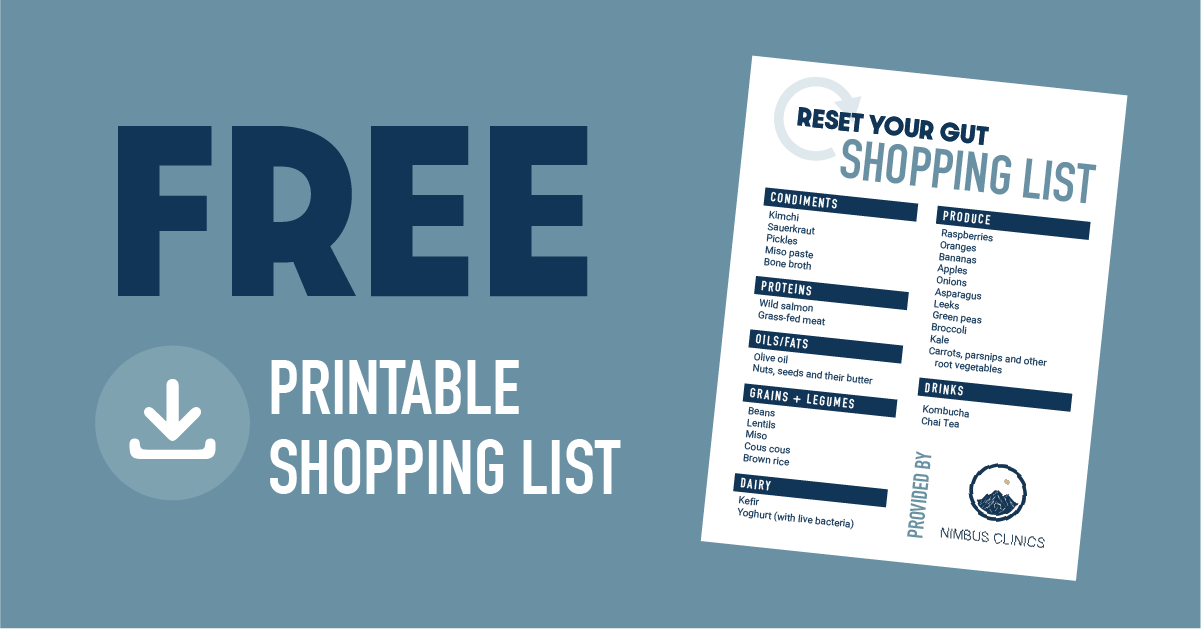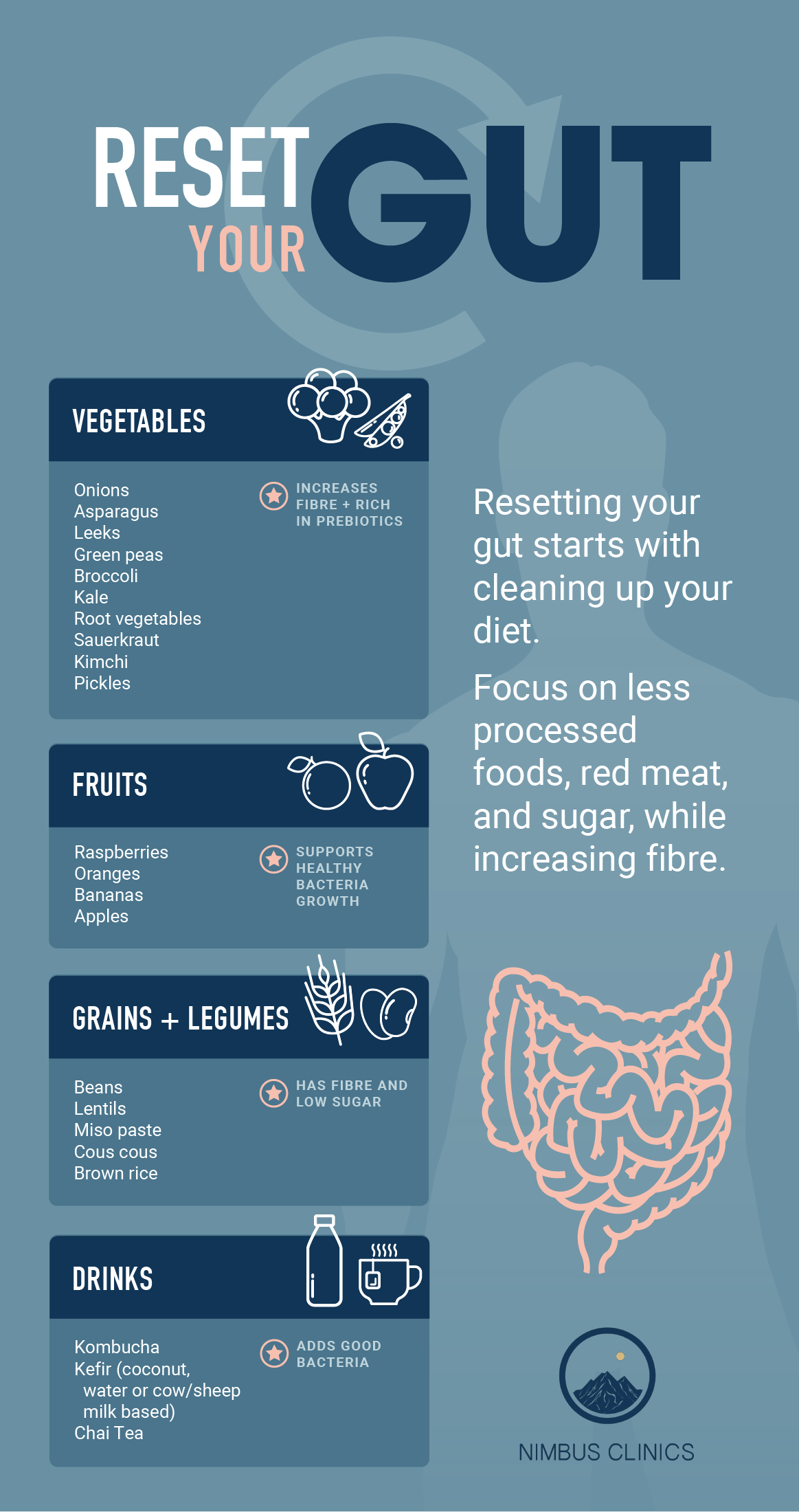 With roughly 100 trillion bacteria and other organisms living mostly in our gut, there are more bacteria in the human body than cells. Most of the bacteria we have are actually beneficial, which aid bodily processes like digestion. They help keep the body functioning by processing and absorbing nutrients. Your microbiome can help to increase nutrient and energy absorption from food and these wonderful bacteria also help to develop the immune system.
So that your microbiome can function at its best, it is important to cleanse the gut and to eat healthily in a way that promotes building and cultivating more cultures of good bacteria in your gut.
Benefits to Cleansing the Gut
Having the right balance of bacteria is essential to good gut health. It can help support in the prevention of a range of conditions, such as:
Diabetes
Heart disease
Obesity
Cancer
Mental health and mood conditions
The health of the gut can also affect some chronic illnesses and autoimmune diseases (1 & 2).
Our modern lifestyles can often disrupt the balance of these bacteria, what with antibiotics and similar medications. For those who may be experiencing an unhealthy gut, common symptoms include having an upset stomach, unintentional weight change, constant fatigue, problems sleeping, skin irritation, and even some food intolerances. For many, they believe that this is just the way their body works, but cleaning up your diet and making some positive lifestyle changes can resolve a lot of these issues while preventing more serious problems.
Changes to Cleanse the Gut
To start changing the diet, recognise that there are certain foods that may need to be cut out. A typical western diet (3) (high in animal protein and fat with low fibre) consisting of processed food and animal meat can decrease the number of bacteria in the gut and the general consumption of fruits and vegetables has been shown to reduce certain bacteria that could be harmful (4). When cleansing the gut, you aren't trying to wipe out bacteria, you are just finding ways to increase the beneficial bacteria by consuming foods that support their growth.
As you start adding in food, it is important to realise that fibre is one of the keys to a happy gut. Look for foods that have indigestible fibre, or prebiotics, to boost the bacteria you already have in your stomach. Some great foods that work well are:
Raspberries
Oranges
Bananas
Apples
Onions
Asparagus
Leeks
Green peas
Broccoli
Beans
Lentils
Whole grains such as brown rice and cous cous
These foods will support beneficial bacteria in the gut, such as Bifidobacteria. It might also be helpful to take a probiotic supplement to help increase the number of bacteria in the gut and then add in the following foods to support their growth and sustainability.
Fermented foods are great for resetting the gut and contain live bacteria, which over time can help to cultivate more cultures of different bacterial strains (the more variety and the more strains, the better). Some examples of popular foods that are easy to throw into other dishes are:
Sauerkraut
Kimchi
Pickles
Miso
Kombucha
Kefir (usually made with cow or sheep's milk, coconut or water kefir are a good animal milk free alternative for those who are vegan, vegetarian or have food intolerances)
It is important to choose varieties of these foods with low sugar. Even though your gut bacteria loves to eat sugar, having too much can feed the less helpful strains of bacteria, making it hard to grow the best forms to support health and digestion.
Making a Change
Most people will find success by cutting out foods, adding in different items and noticing the way that these foods make them feel. The best way to do this is slowly. Keep a food journal and take notes on how you feel during the week. Each person will have their own experiences, so finding what works best is done a little at a time and based on the individual and their lifestyle.
Another helpful way to make changes is making sure you get enough sleep to give your body a rest. Drink enough water each day to stay hydrated. Exercise can also increase microbial density and alter intestinal bacteria (5), which helps with digestion. By making healthier life choices, your gut and body will have a chance to reset and function better.
References
1) Felice, V. D., Quigley, E. A., Sullivan, A. M., O'Keeffe, G. W., O'Mahony, S. M., (2016) Microbiota-gut brain signalling in Parkinson's disease: Implications for non-motor symptoms. Parkinsonism & Related Disorders. 27, pp. 1-8.
2) Börnigen, D., Morgan, X. C., Franzosa, E. A., Ren, B., Xavier, R. J., Garrett, W. S., Huttenhower, C. (2013) Functional profiling of the gut microbiome in disease-associated inflammation. Genome Medicine. 5:65.
3) Singh, R. K., Chang, H., Yan, D., Lee, K. M., Ucmak, D., Wong, K., Abrouk, M., Farahnik, B., Nakamura, M., Hao Zhu, T., Bhutani, T., Liao, W. (2017) Influence of diet on the gut microbiome and implications for human health. Journal of Translational Medicine, 15:73.
4) Klinder, A., Shen, Q., Heppel, S., Lovegrove, J.A., Rowland, I., Tuohy, K.M., (2016). Impact of increasing fruit and vegetables and flavonoid intake on the human gut microbiota. Food & Function, 4, pp. 1788-1796.
5) Allen, J. M., Mailing, L. J., Niemiro, G. M., Moore, R., Cook, M. D., White, B. A., Holscher, H. D., Woods, J. A., (2018) Exercise Alters Gut Microbiota Composition and Function in Lean and Obese Humans. Medicine and science in sports and exercise. 50 (4), pp. 747-757.