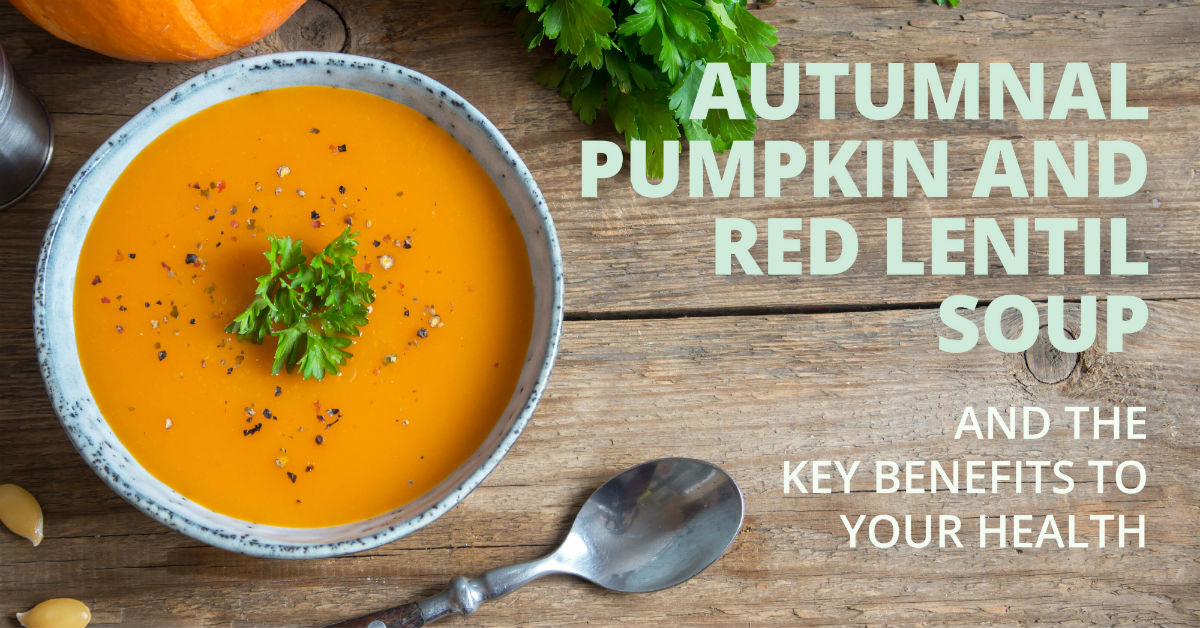 This nutritious pumpkin and red lentil soup is just the autumn warmer you need to keep you and your family nourished and supported during the colder months.
The lentils in this soup means are an excellent source of plant-based protein. Combining a protein, e.g. lentils, to a carbohydrate, such as pumpkin, helps you feel fuller for longer, as the protein slows down the release of the sugar (carbohydrate) into your bloodstream. This also helps keep your blood sugar balanced, removing the occurrence of the dreaded post-lunch, afternoon slump.
And there's more. Eating more plant-based proteins offer your body (and the environment) a lot of benefits. Studies show this eating pattern may reduce the risk of heart disease and type 2 diabetes; support a healthier body weight; reduce inflammation and oxidative stress that can promote cell damage and is associated with a sharper mind and memory.
What's more, research published in August 2019 shows a high intake of plant-based proteins may contribute to living a longer, healthier life. One study, in particular, linked substituting red or processed meats with a lower mortality rate as well as a lower cancer-related and cardiovascular disease-related mortality risk (1).
It is not just the lentils that pack a nutritional punch in this nutrient-dense soup.
Pumpkin is a vegetable is loaded with beta-carotene (2), found in most orange vegetable. Beta-carotene is a precursor to Vitamin A which is critical for vision (3), healthy skin and brain function.
Nutmeg has anti-bacterial properties (4) and is high in anti-oxidants. This super spice has been linked to improved mood (5) and enhanced pancreatic function(6) .
Cumin is a digestive aid (7), containing a substantial amount of iron and may help to alleviate the common cold. Research also shows that cumin may help when dealing with, IBS (8), diabetes (9) and nausea.
All in all this soup tastes delicious, is easy to make and offers an array of therapeutic properties to keep you fighting fit in the cooler months.
If you prefer, for flavor, ease or availability, substituting the same amount of sweet potato for the pumpkin will yield an equally delicious and nutritious bowl of soup.
Recipe
Olive Oil
2 Onions
3 Garlic Cloves,
800g Chopped Pumpkin Flesh
150g Split Red Lentil
1 heaped teaspoon Cumin
1 heaped teaspoon Nutmeg
900ml Vegetable Stock
1 teaspoon Maple Syrup
A Pinch of Freshly Ground Black Pepper
A Pinch of Salt
A Sprig of Parsley (optional)
Instructions
In a large pot, warm 1 tablespoon olive oil over medium heat until simmering. Add the chopped onion and a pinch of salt. Cook, stirring often, until the onion has softened usually about 3 minutes. Add the garlic and spices and cook for another minute, stirring often.
Stir in the pumpkin flesh, lentils, vegetable stock, and maple syrup. Add your required amount of salt and pepper, cover and cook until lentils and vegetables are tender. It should take around 25 minutes.
Add the mixture, and an extra sprinkle of nutmeg, to a blender or use a hand blender and blend until the soup is super creamy and hot.
Serve immediately with a pinch of pepper on top and parsley if you favour its inclusion. Let any leftover soup cool and then transfer to a storage container and refrigerate it for up to 4 days.
References:
1) Budhathoki S, Sawada N, Iwasaki M, et al., (2019) 'Association of Animal and Plant Protein Intake With All-Cause and Cause-Specific Mortality in a Japanese Cohort.'JAMA Internal Medicine, viewed 10 October 2019.
2) Ben-Amotz, Ami, and Rachel Fishier, (1998) 'Analysis of Carotenoids with Emphasis on 9-Cis β-Carotene in Vegetables and Fruits Commonly Consumed in Israel.' Food Chemistry, vol. 62, pp. 515–520 [Online]. Available at: sciencedirect.com/science/article/pii/S0308814697001969 (Accessed 18. Oct 2019)
3) Stahl, Wilhelm, and Helmut Sies (2012) 'β-Carotene and Other Carotenoids in Protection from Sunlight.' The American Journal of Clinical Nutrition, vol. 96, no. 5, pp. 1179S–84S [Online]. Available at ncbi.nlm.nih.gov/pubmed/23053552 (Accessed 18 Oct. 2019)
4) G, Ashish Deep, et al. (2013) 'Chemistry, Antioxidant and Antimicrobial Potential of Nutmeg (Myristica Fragrans Houtt).' Journal of Genetic Engineering and Biotechnology, vol. 11, no. 1,, pp. 25–31 [Online]. Available at sciencedirect.com/science/article/pii/S1687157X12000571 (Accessed Oct 18 2019)
5‌)  Dhingra, Dinesh, and Amandeep Sharma, (2006) 'Antidepressant-like Activity of n-Hexane Extract of Nutmeg (Myristica Fragrans) Seeds in Mice.' Journal of Medicinal Food, vol. 9, no. 1, pp. 84–9, [Online]. Available at ncbi.nlm.nih.gov/pubmed/16579733 (Accessed 18 Oct. 2019)
6) Pashapoor, A, et al. (2019), 'Ameliorative Effect of Myristica Fragrans (Nutmeg) Extract on Oxidative Status and Histology of Pancreas in Alloxan Induced Diabetic Rats.' Folia Morphologica, [Online]. Available at ncbi.nlm.nih.gov/pubmed/31063201 (Accessed 18 Oct. 2019)
7‌)  Milan, K.S. M et al. (2008). 'Enhancement of Digestive Enzymatic Activity by Cumin (Cuminum Cyminum L.) and Role of Spent Cumin as a Bionutrient.' Food Chemistry, vol. 110, no. 3, , pp. 678–683, [Online]. Available at sciencedirect.com/science/article/pii/S0308814608002483 (Accessed 18 Oct. 2019)
8) A, Shahram, et al. (2013) 'Cumin Extract for Symptom Control in Patients with Irritable Bowel Syndrome: A Case Series.' Middle East Journal of Digestive Diseases, vol. 5, no. 4, pp. 217–22, [Online]. Available at www.ncbi.nlm.nih.gov/pubmed/24829694 (Accessed 18 Oct. 2019)
9‌) Bi, Xinyan, et al. (2017), 'Spices in the Management of Diabetes Mellitus.' Food Chemistry, vol. 217, pp. 281–293, [Online]. Available at ncbi.nlm.nih.gov/pubmed/27664636 (Accessed 18 Oct. 2019)